FABRICARÉ

TORRES MARTINEZ Jorge et BERALDIN Christophe
Pantin // France
Vidéo de l'équipe ;


"Réaliser, créer de ses mains. Fabriquer un lieu, une intention, un évènement, un outil.Transformer la matière et les situations"

fabricaré a été créé par Christophe Beraldin et Jorge Torres Martinez en 2022, avec le dessein d'explorer l'architecture à la confluence des disciplines.
Nos expériences partagées, entre l'Espagne, l'Italie, le Mexique et la France au sein de différentes agences permettent à l'atelier une ouverture d'esprit couvrant un spectre large de programmes et d'échelles.
Jeunes architectes, notre méthodologie nous permet de maintenir une curiosité, une volonté d'innover tout en apprenant chaque jour au contact d'autres professionnels.
Cette démarche architecturale permet à l'atelier de considérer de nouveaux territoires dans une vision impliquant à la fois des questions écologiques, sociales, urbaines et fonctionnelles.
L'atelier cherche à répondre aux questions environnementales en adaptant une démarche durable dans le projet en accord avec son territoire, le savoir-faire local et les matériaux in-situ.


"To assemble, to create with our hands. To fabricate a place, an intention, an event, a tool. Transform matter and situations"

fabricaré was founded in 2022 by Christophe Beraldin and Jorge Torres Martinez, with the aim of exploring architecture at the confluence of disciplines.
Our shared experiences, between Spain, Italy, Mexico and France within different architectural firms gives us an open-mindedness covering a wide scope of programs and scales.
Young architects, our methodology allows us to maintain a curiosity and a desire to innovate while learning every day in contact with other professionals.
This architectural approach allows us to consider new territories with a vision involving ecological, social, urban and functional issues.
The workshop seeks to respond to environmental issues by adapting a sustainable approach to the project in accordance with its territory, local know-how and in-situ materials.


Pyramis Musicam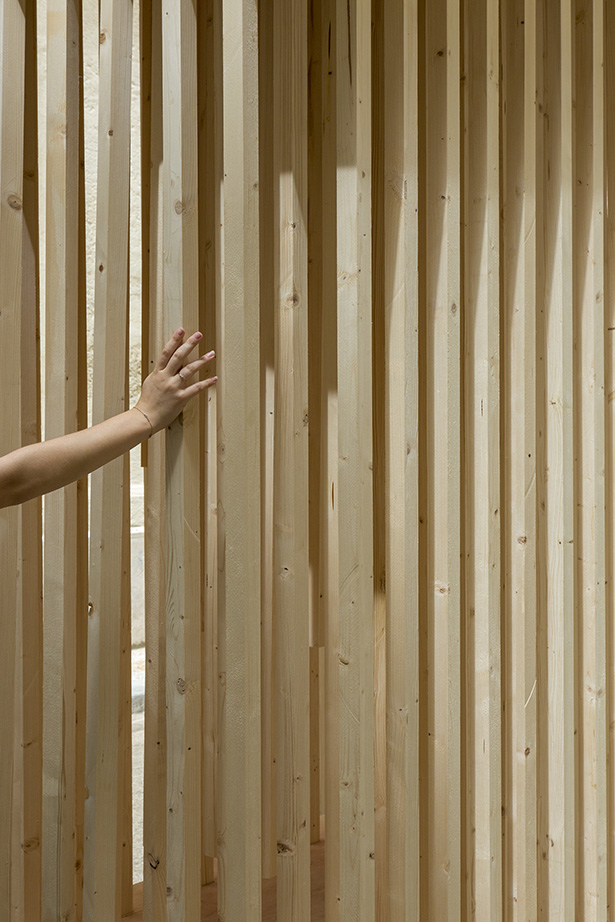 La sacralité libre d'interprétation prend corps dans cet assemblage à la croisée du symbolique formel, de la musicalité et de la lumière.
La géométrie, le son et la lumière dictent l'installation et font transparaître dans ce projet la multiplicité du sacré.
-La recherche de la pureté géométrique visible dans de nombreuses civilisations passées et contemporaines est à notre sens un des éléments majeurs de la sacralité.
-Dans chaque rite, mise en scène ou cérémonie, le rythme, la musique, le son accompagnent le mouvement.
-Insaisissable, la lumière reflète et apporte une dimension sacrée. Sa mise en scène et son orientation permettent d'augmenter l'intensité du lieu.
Dans un premier temps de manière passive, la structure laisse apparaître la pyramide visuellement. Dans un deuxième temps: le badaud traverse les tasseaux pour une interaction active au coeur du pavillon.
Cette installation tente d'offrir une expérience au choix, ludique et sensorielle, calme en contemplation et chantante en interaction.
The freedom of interpretation of sacredness takes shape in this architecture structure at the crossroads of formal symbolism, musicality, and light. Geometry, sound, and light are the three principles of the installation and reveal in this project the multiplicity of the sacred.
-The pursuit of geometric purity, visible in many past and contemporary civilizations, is in our view one of the major elements of sacredness.
-In every ritual, staging, or ceremony, rhythm, music, and sound is played in movement.
-Light reflects and brings a sacred dimension. Its staging and orientation can increase the intensity of the space.
At first passively, the structure reveals the pyramid visually. In a second stage, the onlooker goes through the slats for an active interaction at the heart of the pavilion.
This installation attempts to offer a choice of experiences, playful and sensory, calm in contemplation and singing in interaction.

Vidéo du projet :