DUBOIS Clémence et ALAUX Mathilda

Paris - Montpellier // France
Vidéo de l'équipe :


Clémence Dubois et Mathilda Alaux se sont rencontrées en dernière année d'étude à l'école d'architecture de Montpellier en 2017.
Mathilda Alaux est architecte et a fondé son atelier en 2021. Elle travaille à différentes échelles, et porte autant d'attention à la matière construite qu'au paysage et ses occupants. Elle complète son activité par la pratique artistique du dessin, et questionne la place de l'accident, du hasard et du temps dans le processus de création.
Clémence Dubois est paysagiste conceptrice dans une agence montpellieraine. Dans sa pratique professionnelle les enjeux environnementaux ont une place importante et lui permettent de questionner la relation entre les humains et leur écosystème et à plus grande échelle, les différentes interactions entre vivants.

Leur approche sensible et poétique du projet et leur sensibilité pour le paysage les amènent à collaborer, en complément de leur pratique indépendante, afin d'explorer la transversalité entre architecture, paysage et création artistique .


Clémence Dubois and Mathilda Alaux met them when they were in their last year at the architecture school of Montpellier, back in 2017.
Mathilda Alaux is an architect and founded her agency in 2021. She works at different levels and is a very detail-oriented artisan, whether it is in the materials she uses or in the attention she pays to the surroundings and inhabitants where her works take place. Her creativity is also enlightened by her drawing practice, where she questions the role of accidents, of chance and time in the creative process.
Clémence Dubois is a landscape designer in an agency located in Montpellier. Environmental challenges take a large share of her professional practice, enabling her to question relations between humans and their ecosystem, and to a larger scale, the various interactions between living elements .

Their sensitive and poetic approach of project building and their thoughtful attention to landscape lead them to collaborate, in parallel of their independant practices, in order to explore transversality between architecture, landscapes and artistic creation.



Con-temp(s)l(e)-ation
Un temple du temps.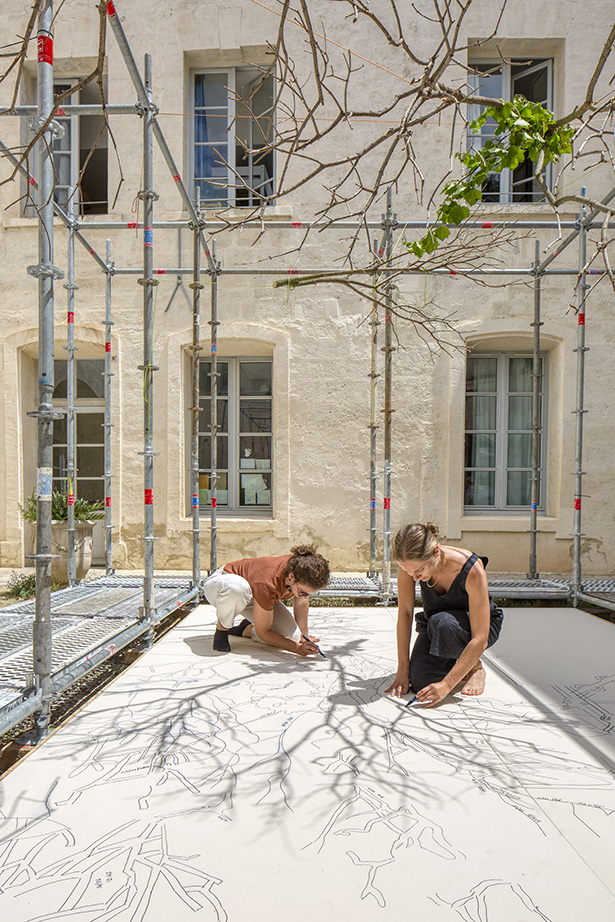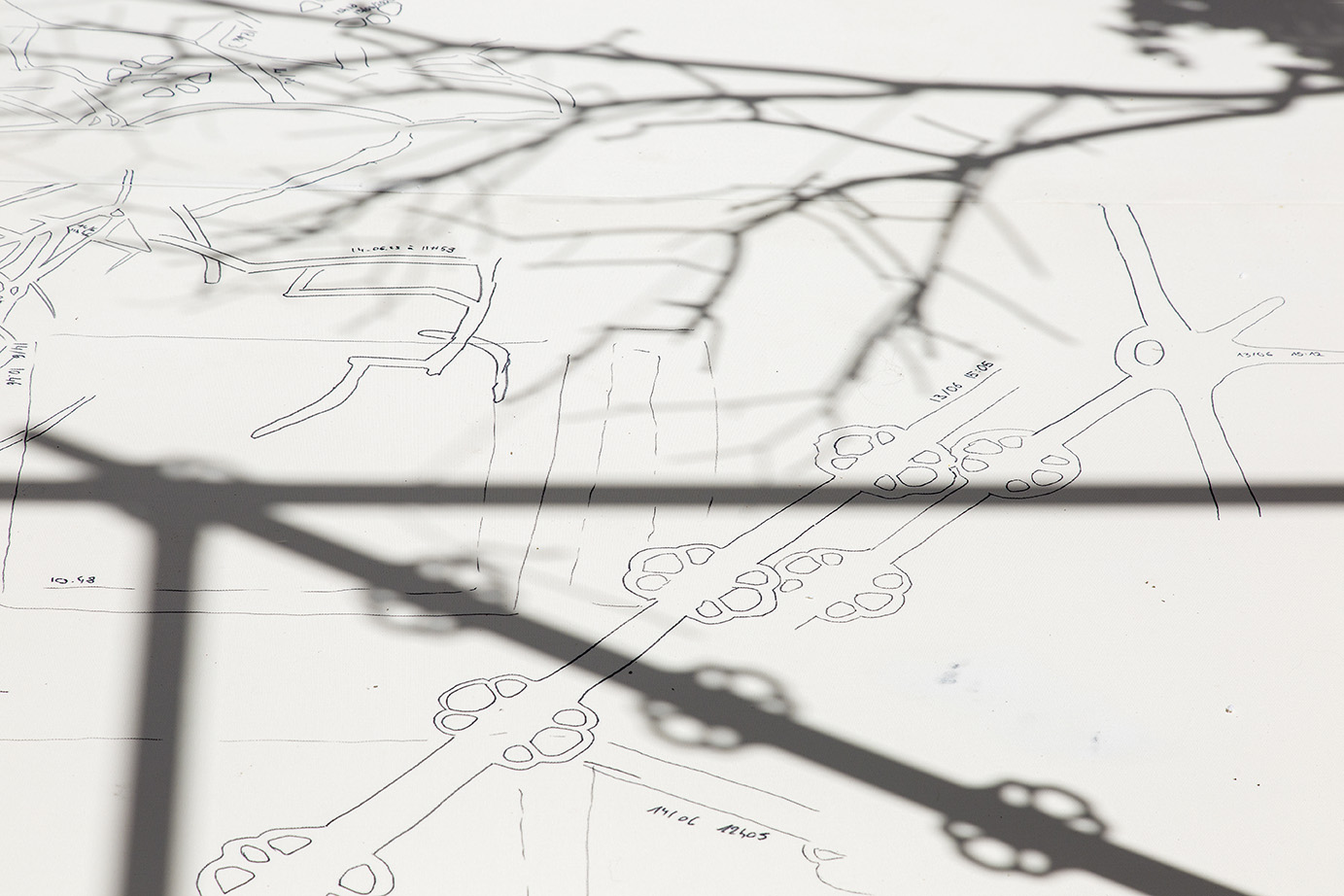 L'installation questionne le temps, la perception que nous en avons et son impact sur le rapport à notre environnement. Elle propose de reconstruire un lien sensible avec le temps, peu à peu dissous dans nos sociétés contemporaines. À l'accélération, l'urgence, et la vitesse, s'oppose aujourd'hui un mouvement vers la lenteur. Nous souhaitons engager le corps du visiteur dans la contemplation du temps qui passe à travers un rite par le dessin : Il retire ses chaussures et les dépose à l'extérieur du sol blanc central, où sont projetées les ombres de branchages. En mouvement tout au long de la journée, le visiteur dessine le contour de ces ombres, qui viendront peu à peu recouvrir la surface, vers une saturation de lignes qui représentera le temps écoulé. Ainsi les visiteurs participeront à la matérialisation d'un extrait de temps, pensé en relation avec son milieu, replaçant l'homme au sein d'un écosystème vivant complexe.

The installation questions time, the perception we have of it and its impact on our relationship with our environment. It proposes to rebuild a sensitive link with time, gradually dissolved in our contemporary societies. To acceleration, urgency and speed, is opposed today a movement towards slowness. We wish to engage the visitor's body in the contemplation of time passing through a rite by drawing: He removes his shoes and puts them outside the central white floor, where the shadows of branches are projected. In movement throughout the day, the visitor draws the outline of these shadows, which will gradually cover the surface, towards a saturation of lines that will represent the elapsed time. Thus the visitors will participate in the materialization of an extract of time, thought in relation with its environment, replacing the man within a complex living ecosystem.

Vidéo du projet :