Aude-Lise Garcia, Jordan Llanos et Valentin Sanbardy
Black Network
Montpellier // France
Cette équipe réunie de façon impromptue autour d'un café avec beaucoup trop de chantilly a choisi le FAV pour sa première collaboration. Bien que celle-ci soit toute récente, les membres de cette équipe sont déjà actifs depuis quelques années. Ces trois diplômés de l'école nationale supérieure d'architecture de Montpellier ont des parcours différents qui permettent à l'équipe de profiter d'expériences et de compétences diverses. Jordan vient d'ouvrir sa propre agence cette année et compte déjà plusieurs projets à son actif, Valentin a gagné le deuxième prix du concours de l'ordre des architectes et travaille actuellement à l'agence d'architecture AWA à Mauguio. Aude-Lise qui travaille également à l'agence d'architecture AWA, a obtenu la mention du jury du concours CNSA. L'objectif de ce trio, mise à part de vous faire partager leur bonne humeur, sera de vous faire tisser des liens, de vous réconcilier avec le patrimoine, l'art et la ville. L'équipe se rejouera d'en discuter avec vous autour d'un café.

This team gathered in an impromptu way around a coffee (with far too much whipped cream) and chose the FAV as its first collaboration. Although this one is quite recent, the members of this team have already been active for a few years. These three graduates of the Montpellier National School of Architecture have different paths, which allow the team to take advantage of their many experiences and diverse skills. Jordan has just opened his own agency this year and can already attribute several projects to his name. Valentin won the second prize of the Architects' Order competition and is currently working at the architecture agency AWA at Mauguio. Aude-Lise, who also works at AWA, obtained a mention from the jury at the CNSA competition. The goal of this trio, besides sharing their good vibes with you, will be to make you forge links, reacquaint you with heritage, art and the city. The team will be delighted to discuss it with you around a nice cup of coffee.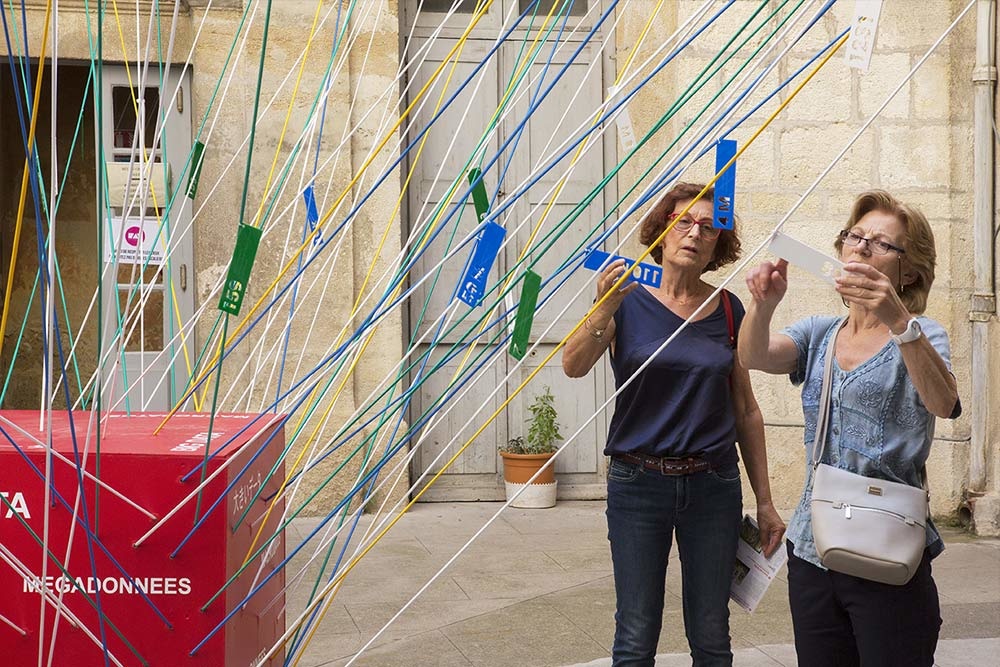 Le parti architectural de notre installation a été de formaliser de façon métaphorique l'impact des données échangées à travers le network. C'est à l'aide d'un maillage de cordage se diffusant à travers toute la cour qu'il prend forme. En analogie avec la propagation exponentielle que le réseau a sur notre vie. Les cordes sont ici la réinterprétation des milliers de données que nous envoyons à travers le « Network ». Selon l'origine des données envoyées Finance, Réseaux sociaux ou encore écologie les cordes auront des couleurs différentes. L'installation est vécue en plusieurs phases. Dans un premier temps, le visiteur rentre dans le réseau, puis, dans sa progression, il va être oppressé jusqu'à l'amener contre sa volonté à se plier sous ce maillage devenu pesant. Le visiteur est ainsi contraint de céder à "cette pression technologique". Une seule sortie possible : se dégager en s'affranchissant de ce réseau afin de prendre conscience du monde réel. Ce qui permet de mettre en lumière la cour intérieure. Tout un univers prend alors forme et plonge le visiteur entre réalité et fiction. L'ombre vient ici perturber les sens.

The architectural design of our installation was to formalize metaphorically the impact of the data exchanged through the network. A mesh of rope diffusing through the entire courtyard shapes this idea. Concurrent with the exponential propagation that the network has in our lives, the strings are, here, the reinterpretation of the multitude of data that we send across the "Network". The strings will have different colors depending on the origin of the data sent: Finance, Social Networks, Ecology… The installation goes through several phases. First, the visitor enters the network, then throughout its progression; he will be oppressed until he bends, against his will, under this heavy mesh. The visitor is thus forced to give in to "this technological pressure". There is only one possible exit: free himself from this network to become aware of the real world. This allows to highlight the inner courtyard. A whole universe then takes form and immerses the visitor between reality and fiction. The shade here comes to disrupt the senses.